Border Force staff are beginning the second in a series of strikes at UK airports until New Year's Eve.
Around 1,000 members of the PCS union, many of whom work in passport control, will walk out from 28 to 31 December.
The union has warned the strikes could go on for months unless the government enters talks over pay.
Rail disruption will also continue on Wednesday and Thursday, with TSSA union members at Great Western Railway and West Midlands Trains on strike.
The Border Force walkouts are over pay, jobs and conditions as the cost of living rises.
Border Force strikes could go on for months
The strikes taking place in December and January
Civil servants will join military personnel to cover the strikers at Heathrow, Gatwick, Manchester, Birmingham, Cardiff and Glasgow airports, as well as the Port of Newhaven.
Earlier strikes from 23 to 26 December caused minimal disruption. A spokesperson for Heathrow said immigration halls for travellers were "free flowing" and that the airport experienced "no issues" resulting from the first series of strikes.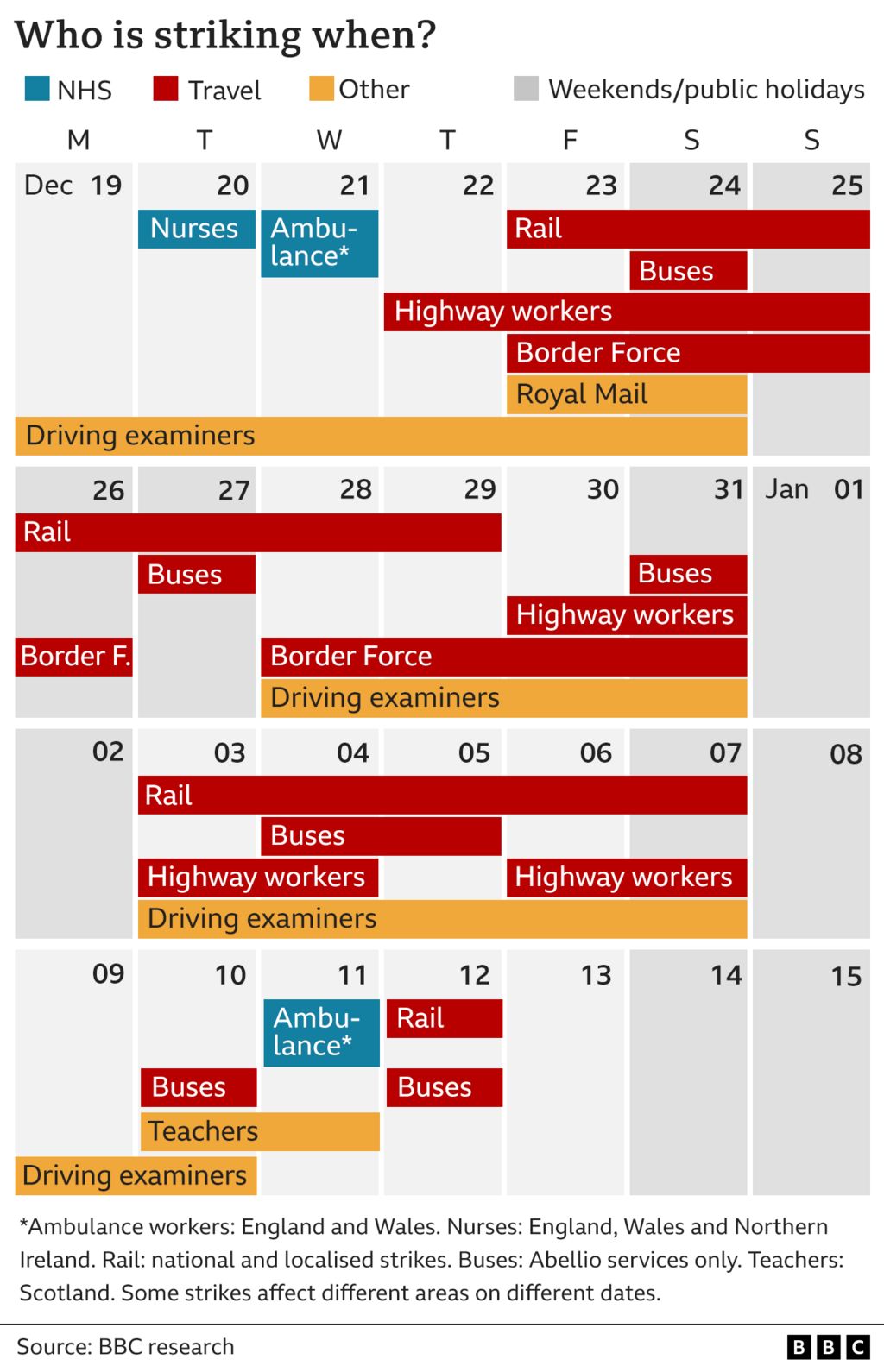 Meanwhile, driving examiners and rural payment officers at more than 250 sites across the UK are holding rolling strikes from 13 December to 16 January. Members of the PCS union at 71 driving test centres in eastern England and the Midlands will be on strike over five days from Wednesday.
The PCS is calling for a 10% pay rise, better pensions, job security and no cuts to redundancy terms for all its members but the government has said the requested pay rises are "unaffordable".
Ahead of the first wave of airport staff strikes, Prime Minister Rishi Sunak said his priorities were to reduce inflation.
"Part of that is being responsible when it comes to setting public sector pay. In the long term it's the right thing for the whole country that we beat inflation," Mr Sunak said.
Disruption to travel is also expected during upcoming rail strikes in January. Recent walkouts by rail staff have brought many parts of the country to a standstill.
The latest wave of rail staff strikes is expected to disrupt journeys for those travelling back to work after Christmas and New Year breaks.
RMT union members at Network Rail will resume their strike action over pay and conditions on Tuesday 3 and Wednesday 4 January.
They will walk out again on 6 and 7 January and there is a ban on any overtime for RMT members from 18 December to 2 January.
The Rail Delivery Group (RDG) said the striking RMT rail staff would mean only around 20% of services will operate and "half of the network will shut down".
"There are likely to be even fewer services on 5 January due to a strike by drivers who belong to [the union] Aslef," the RDG warned.